Discover the new Carer Friendly ID Card!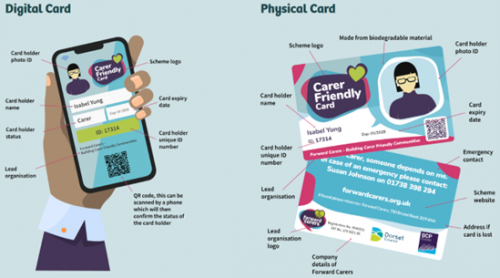 The Carer Friendly ID Card is a national scheme delivered by Forward Carers and is provided for free to Carers registered with either the Carer Support Dorset service or CRISP (BCP Carers) thanks to BCP Council and Dorset Council who have commissioned the service.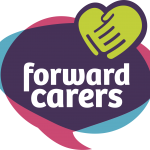 The cards are a simple way of verifying your status as an unpaid Carer whenever you need to. You can use it in situations where you are required to identify yourself as a Carer, such as:
when you are asked for prove you are a verified Carer
in healthcare settings to be included in the conversation around medical planning for the person you care for
with an employer if you want to be recognised as a working carer and request additional support due to your caring role
The scheme gives Carers access to deals and discounts upon presentation of their Carer Friendly ID card. Many local and national organisations offer a special offer, discount or deal for Carer Friendly ID Card holders or include cardholders in their existing concession offers. It also provide In Case of Emergency (ICE) contact details.
The Process?

If you are new to registering with us we will send you a welcome pack with everything you will need to apply for your new Carer Friendly ID Card. Once you have received this, you will need to apply directly online for the card via the link in the letter.
Should you have any trouble submitting the online form, we suggest:
Ask a friend/family member to support you to complete the online form

Call Dorset Digital Champions. Book a Digital Champion appointment by going in a library or by calling their hotline on 01305 221048. Please beware that the hotline is staffed 8.30 am – 5pm each day. Outside of those times, please leave a message

Speak to an advisor by calling us at Carer Support Dorset on 0800 368 8349
Once details are verified by the Forward Carers team the card will be printed and posted. Should you have requested a digital version for your smart phone, an email containing instructions will also be sent to you.
If you are already a registered carer with us, and your My Carers Card has expired follow this link to fill out the online application form to receive your new Carer Friendly ID Card. If you need any help, or a reminder of what your unique Carer ID number is give us a call on 0800 368 8349, or email us at admin@carersupportdorset.co.uk.
If you would like to know more about Forward Carers click here.
Please note, this is not a Carers Passport.
A note to carers
This new card will be replacing the My Carers Card scheme; however, the previous cards will remain valid until their expiry date and only then will they be replaced by this new card.
If you are unsure whether your Carers Card is still valid, please give us a call on 0800 368 8349.