Who is a young carer?
A young carer is someone aged 18 or under who looks after someone. It might be a parent, grandparent, sibling or close relative. Young carers might look after someone who has, a disability, illness, learning disability, mental illness or drug or alcohol dependency.
What might a young carer do?
Practical tasks, such as cooking, housework and shopping. Physical care, such as helping someone out of bed. Emotional support, such as talking to someone who is distressed. Personal care, such as helping someone dress. Managing the family budget and collecting prescriptions. Helping to give medicine. Helping someone communicate. Looking after brothers and sisters. Young carers can find that looking after someone takes up a lot of their time; it can sometimes be very difficult for them to cope with everything. School work and attendance may suffer as well as finding time for their friends and other activities.
Young carers might do all, some or only a few of the following: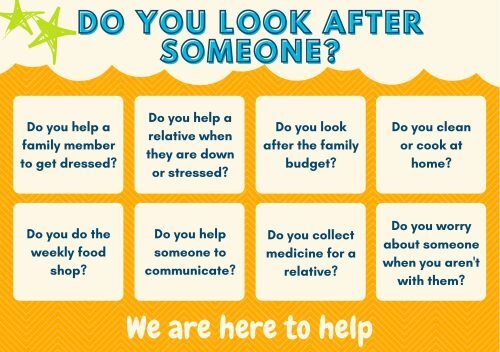 Did you know?
In 2019, the BBC estimated that there are 800,000 young carers in the UK. 1 in 5 young carers in secondary schools are young carers and 62% of young carers experience bullying. Due to their caring responsibilities, often young carers miss crucial school time. ¼ of young carers regularly miss school and on average, young carers miss or cut short 48 days a year. This can make young carers vulnerable to becoming NEET (not in education, employment or training) in their adult life and do worse on their GCSEs than their peer equivalents.*
Watch the NHS England video for an insight into what it's like to be a young carer:
*EduCare & The Children's Society – How can you support your young carers? Webinar (2020)
Identifying and supporting young carers
Young carers are a vulnerable and disadvantaged group and may therefore struggle with low grades, mental health issues, being socially isolated from their peers, being more at risk of exploitation and often being bullied.

Identification and support of young carers in schools and other community settings can therefore have a huge impact on young carers wellbeing. Yet, there is still secrecy and shame around caring for an ill parent or family member, which means often young carers are not recognised and suffer in silence. Others may not even recognise themselves as a young carer due to a lack of awareness of the differences between them and their peers.
We have resources that might be of use to your school or workplace, given to schools or parents and put up on noticeboards to help to recognise and identify more young carers. Furthermore, Carers Trust and The Children's Society have created a Young Carers in School Programme which is a free initiative that helps schools to identify and support young carers and awards good practice.
Have you identified a young carer you know?
We can help. You can get in touch with us via our helpline or email us for more information.
Young carers can get access to information, advice and guidance as well as signposting from our friendly carer advisers. They can also receive a free carers discount card. We are also able to refer the young carer to have a young carer assessment with Dorset Council, if they wish.
Downloadable resources
Take a look at our downloadable resources below and get in touch if you need to:
Information for school staff
Who are we?
Do you look after someone?