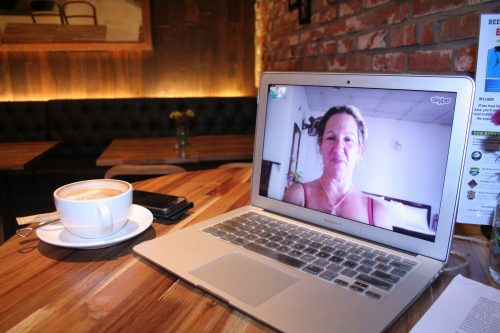 The current restrictions on our day-to-day movement can make it difficult to keep in touch with those close to you.
There are however some great ways that technology can help you stay connected including:
Skype – web-based video chat platform.
Zoom – simiar to Skype but with added extras that are particularly useful for lots of video participants.
Whatsapp – use Whatsapp to text, send pictures to each other and even call and video call your contacts.
Messenger – chat via Facebook. You can chat by typing or can video call via Messenger. There are also games you can play together via Messenger.
Depending on whether you are using a PC, laptop, phone or a tablet there are different ways for installing these.
Want any help with getting online or downloading apps etc?
If you have an IT question, no matter how big or small, Dorset Council Digital Champions are a group of volunteers, mostly made up of retired IT professionals, who can help you.
Call them on 01305 221000 weekdays (excluding Bank Holidays) from 10am to 12noon.
Things you can get involved with using technology
Virtual cuppas – Mobilise run daily virtual cuppas for carers. Pop in for an informal chat with people in similar situations to you.
Play a game – whether you chose to play a physical game across Skype or Zoom or perhaps switch to an app version of a game such as Words with Friends (similar to Scrabble).
Have dinner parties or bake offs – get creative in the kitchen and perhaps synchronise eating a meal together virtually. You could also try family/friend bake offs – pick a recipe, set a timescale to produce it and then judge each other's efforts.
If you have a particular interest e.g. singing, gardening, bird watching then there are lots of different virtual groups you can get involved with. It's worth doing a quick internet search for suggestions depending on your interests plus keep an eye on our Facebook page too as we share ideas on there from time-to-time.
We'd love to hear your ideas too! Let us know what you've found useful recently.