The thought of restrictions ending might bring a whole mix of emotions for you, especially if you have got to think of yourself and the person you care for as well. Below we have a few tips for helping begin getting back out when restrictions are lifted.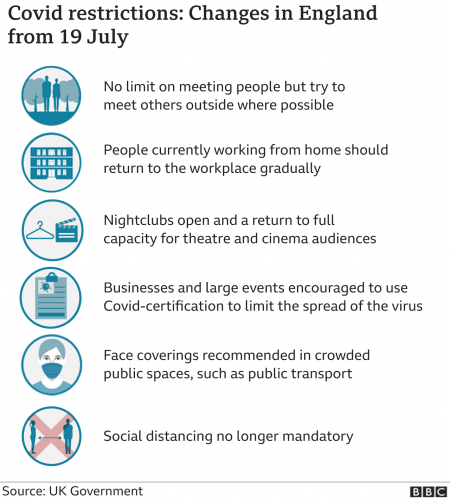 Note: clinically extremely vulnerable people are now advised to follow the guidance that applies to the rest of the population. People who test positive for COVID-19 are still legally required to isolate.
Taking things step by step
Whatever the rules are, you still have a choice around what you do. We may be able to see more people or go to more places but you don't have to do all of that at once. Do things gradually, and only do what you are comfortable with. However, be aware that sometimes if we avoid things entirely they can make us more anxious in the long run. Therefore, it could be useful to think of small steps you can do to start to get back out shopping, travelling and socialising.
Plan ahead
We are often more likely to do things if we plan them ahead in advance. So if you are meeting different people, plan this in advance and think ahead of time what precautions you might want to be in place. When planning research where you are going. Although it is not a legal requirement, many businesses and organisations will continue to impose some restrictions, so look up the places you want to go to see their up-to-date guidance to customers.
Meeting others in COVID safer ways
There are still ways you can continue to protect yourself and your cared for from COVID. Some precautions you may want to consider are:
Use outdoor spaces, even if indoors is now an option, outdoor spaces are still a great way to socialise this summer
Choose times to go out when places are not so busy
Make sure the space is well ventilated if you meet inside; open windows and doors or take other action to let in plenty of fresh air
Wash your hands regularly and avoid touching your face
Consider continuing to practice social distancing if that feels right for you and your friends
Ask friends and family to take a lateral flow test before visiting you
Express how you are feeling
We might all be going through the pandemic but that does not mean everyone is going through what you are. Only you can feel what you feel, but it can be confusing or overwhelming. To make sense of how you are feeling it is good to express this in some way. The way you do this will depend on you, but it might be through writing things down, through artwork or by phoning someone you trust.
If you have any concerns, we are here to listen. You can phone us on 0800 368 8349.
The importance of upfront conversations
It is helpful to discuss the changes in restrictions ahead of meeting people, so that you can all put in precautions.  For example, if you're meeting friends or colleagues, it might help to explain to them ahead of time that you'd prefer certain precautions such as to continue socially distancing.
If you are meeting a family member or someone close to you, consider whether you are comfortable greeting them with a hug. Letting the person know in advance can help to avoid confusion, or help you avoid a situation you're not comfortable with.
You don't need to give a reason, although you might say while you're really looking forward to seeing them, you'd prefer to socially distance because you're worried about catching the virus because you or your cared for are vulnerable.
We are here for you every week day if you want to talk through what the changes in restrictions mean and how they may impact you. Call us on 0800 368 8349.