Common early symptoms of dementia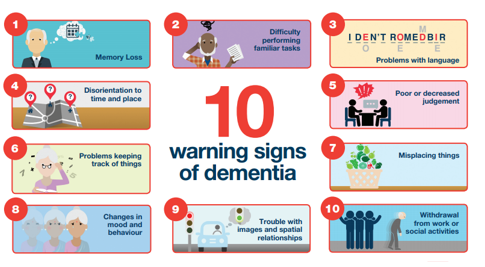 Copyright © Alzheimer's Disease International
Dementia can affect people in lots of different ways but there is often similar early symptoms that might appear that can indicate that someone may develop dementia.
These include:
memory loss
difficulty concentrating
finding it hard to carry out familiar daily tasks, such as getting confused over the correct change when shopping
struggling to follow a conversation or find the right word
being confused about time and place
mood changes
These symptoms are often mild and may get worse only very gradually. This can make it harder to pick up if you are with someone every day.
In the early stages of dementia, many people are able to enjoy life in the same way as before their diagnosis.
Getting a diagnosis early
It is vital that if you notice these signs you go to a health professional early. It can be useful to know some of the concerns that might stop an early diagnosis so you can understand what to be aware of with your loved one.
Fear or worry around symptoms can make people put off going to the doctor
. • Missed symptoms because they happened very gradually.
Thinking symptoms and forgetting was just a normal part of aging.
To get a diagnosis takes time, it often involves multiple appointments.
General Practitioners (GPs) may not be confident to make a diagnosis so may refer to a specialist.
The sooner you go to the GP, the longer doctors have to understand and monitor changes in a person's health and behaviour over time and rule out any other underlying illnesses.
Seeing your GP may help to get an early diagnosis. This is important because it may allow the person you care for to:
Receive treatment to slow down dementia (in some cases).
Access local support services. You can find out more about the local support Alzheimer's Society offer on their website.
Know what to expect and plan for their future.
How you can help in the early stages
If you worried or concerned that your loved one is having these symptoms it is useful to concentrate on supporting them to maintain skills, abilities and an active social life. This can also help them feel better about themselves, particularly if they are concerned about emerging symptoms.
It is therefore important to keep them involved in things even if you are starting to notice changes. Let the person help with everyday tasks, such as:
shopping
laying the table
gardening
taking the dog for a walk
going for regular walks
If they are starting to forget where things are, then memory aids used around the home can help the person remember. For example, you could put labels and signs on cupboards, drawers and doors. If you want more help with making your home dementia friendly you can read this NHS webpage on making your household dementia friendly.
Dementia will also start to affect how someone communicates so you may also have to make changes to how you communicate with them. If you want more information on this you can read about communicating with someone with dementia on the NHS website.
Some other ideas for ways you can adapt and continue to keep a sense of independence for the person with dementia might be:
To be prepared for changes in food taste, often for stronger flavours or sweeter foods. Try to accommodate these as best you can.
Put a sign on the toilet door or keep the door open/well lit, so they can go when they need.
Put a dementia-friendly clock by the bed that shows whether it's night or day.
Are you a carer?
Even if symptoms of the person you look after are not severe or if you are not caring full time, you are still a carer.
You might be helping with household tasks such as cleaning or cooking, administering medication, organising and transporting someone to medical appointments, providing personal care or providing emotional support. You could be doing it once a day, a couple of times a week or all the time. There are no time limits to being a carer.
Supporting yourself
Caring for someone with dementia can be emotional. You might experience feelings of guilt, sadness, confusion or anger. It can be sad seeing a loved one scared of what is happening to them or equally changing into someone you don't know any more. Unlike with some other conditions, it can also be difficult to share your emotions with the person you care for.
It is important that your feelings don't go unexpressed. It might be that you are finding it hard because the person you want to talk about these changes is the very person who is suffering with dementia, but there is always people you can talk to.  There are lots of specific face-to-face and online support groups where you can talk to others in similar situations to you, you can find these on the what's on page of our website.
If you want to talk these feelings through, we offer our Here to Talk befriending service as well as support and advice, call us on 0800 368 8349 to find out more.
If you would like more information and support on coping with dementia as a carer you can read our blog on coping with changes in someone with dementia.