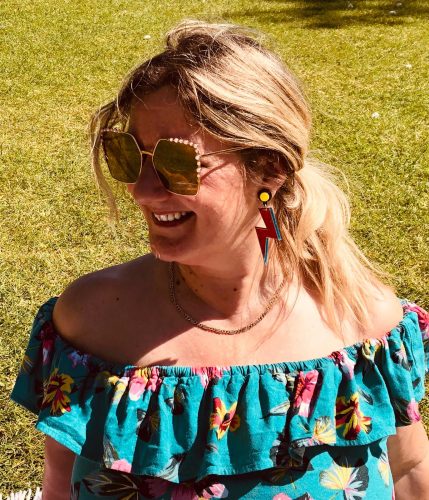 Anna Elston, Manager of Carer Support Dorset, highlights some of the ups and downs of lockdown life…
On 16th March 2020 at 7pm, just as I was finishing off my shift on the evening telephone service in the office, I received a call from my line manager.
"Take everything you need to work from home. I don't know when you'll be back. Please let everyone else know immediately." It was the most surreal situation, looking around the office and wondering what I might need, indefinitely, apart from my laptop and phone. I think I must have been in shock, because I found myself looking for paperclips.
At home, I watched the news like I had been doing every day recently. It was getting more and more frightening as Government restrictions were being imposed in the UK at a startling rate. People were panic-buying and delivery slots were hard, if not impossible, to secure. Keeping on top of current information was vital for the carers on our register, and this was where the team really came into their own. A folder was set up named "Coronavirus", and the rest is history. We immediately increased our frequency of compiling and sending out newsletters (via email and post) because we felt it was essential to keep carers updated as often as possible with the ever-changing local and national information. I can't thank the carer advisers and our communications lead enough for their dedication and commitment to the carers they support.
My focus also had to be on my own household, since I am a single mother to three teenage boys who were all going through their own challenges at this time. They left school on Tuesday 17th March, unaware that they would not be returning the next day or for the foreseeable future. I got quite emotional when I read the email to my sons from their Head Teacher: "It is with a heavy heart that I write these words and I do not underestimate the significance of what you are being asked to do." My eldest son abruptly left his final year at college, never to return or have a proper ending with his college friends. University was hanging in the balance unless he was able to complete his course online; not so easy when it's an Extended Diploma in Performing Arts and reliant upon a final stage show.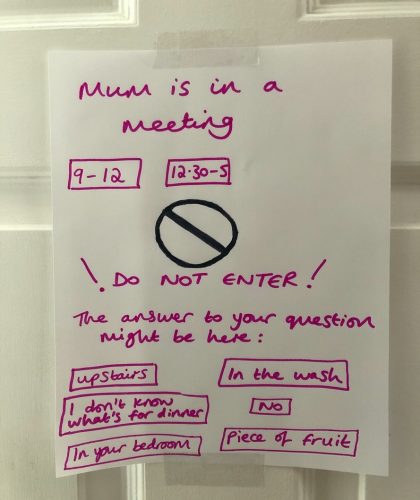 So, there I was, managing a service for unpaid carers across Dorset from my spare bedroom whilst home-schooling three children at the same time. It naturally took some time for us to all settle into our new routines and family dynamics.
My youngest son received "The Letter" due to historic acute respiratory issues, so needed shielding. My mum and her husband, in their 70's, are self-sufficient but I still had to ensure that they were ok and had everything they needed to stay indoors for at least 12 weeks. I think it's fair to say it's been an emotional rollercoaster!
IT and phone systems worked well so we were able to make the transition from office to home-working seamlessly. We are proud to say that our telephone service continued as normal without having to shut down at all. As we adapted to regular online meetings, services pulled together to share information for carers. I really value my Tuesday morning video meetings with the "Staying Connected Covid-19" group, consisting of representatives from Bournemouth, Christchurch and Poole Council, Dorset Council, Dorset Healthcare, Dorset CCG, Dorset County Hospital NHS Foundation Trust, The Royal Bournemouth and Poole NHS Trusts and Rethink, and would love this partnership working to continue. It not only prevents duplicated information; it has also helped to build positive working relationships.
I was asked to do a live radio interview for Abbey104.com, a Sherborne-based radio station, and had a whole 5 minutes of airplay which was great -if not nerve-wracking-promotion for Carer Support Dorset and our services for unpaid carers. Doing it from the comfort of home seemed to make it easier, though.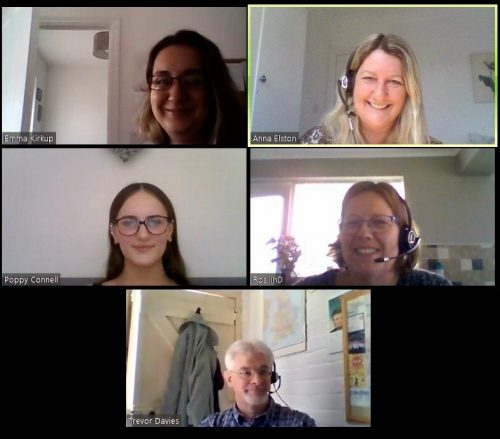 Some fantastic organisational developments have evolved during this period of home working. It is incredible to think that it's only 6 months since the launch of Carer Support Dorset, yet we are already expanding. Interviewing candidates online for upcoming posts has been a new experience for us all! We are now making welfare calls on top of our regular service of registering new carers, signposting to other services that may be helpful and making referrals to the council for full carer assessments. We have started Virtual Cuppa sessions online for carers on our register, which are proving to be a welcome respite for those who have come along for a friendly chat and information-sharing. I've been so impressed with how many carers have been willing to adapt and learn new skills in order to stay connected with each other or make new acquaintances who share common interests or life experiences. I'd really like to continue with this platform to facilitate getting carers together as it's not location-dependent and increases accessibility to support for those who may not be able to get out to groups and carer cafés once they are allowed to restart.
We've also launched a "Here to Talk" service after receiving some extra funding. This is for carers who may feel isolated or lonely and just fancy having a regular chat with a volunteer to break up the day, and we've already started matching carers with volunteers.
On 1st May, Dorset Council transferred the Young Carers register for Carer Support Dorset to maintain, and we are now registering new Young Carers, signposting and making referrals to Dorset Council for those in need of additional support.
I went into the office last week for the first time since 16th March. So much post! I was blown away by the amount of thank you letters from carers, not only from those who have accessed our service but also from those who simply wanted to let us know how reassuring it has been knowing we are available if they need support. I'm so pleased that Carer Support Dorset has been able to help in some way during this potentially difficult and stressful time.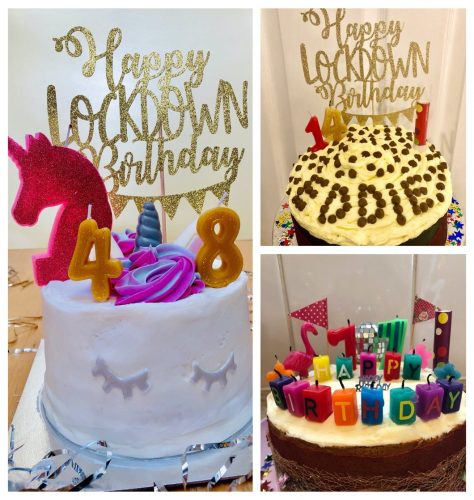 We've still managed to remain positive and have some fun whilst working from home. We've been linking up with Carer Support Wiltshire for a virtual weekly "Bake-Off" and online coffee mornings. There have been three birthdays in my family during lockdown, and it's been lovely having the time to bake once more. We've also found new ways to celebrate! I made use of our virtual meetings platform for work and hosted a fancy-dress party for 35 friends and family with a live music performance, courtesy of one my sons. And regarding my son, in the end, he also managed to record an online performance to submit for assessment with the other college students and I'm proud to say he has secured a place at University.
This week is Carers Week (8th-14th June 2020) which would have looked very different had we not been under Covid-19 restrictions, but we have done our best to raise awareness of some of the issues that carers are facing. We will be highlighting the work of our registered unpaid carers by making caring visible and sharing their stories on our website. The Carer Support Dorset team has been busy filming themselves cooking a meal that carers can follow, which will be available to view on our website later in the week. We've teamed up with the Arts Development Company to produce some postcards for carers! We're hosting a Virtual Cuppa session every day at varying times, and we'd be delighted if you can join us – please give us a call on 0800 368 8349 to book your place.
Lastly, I'd like to thank you all for the wonderful work you're doing in your caring role and we look forward to a time that we can meet face-to-face once more.
With my very best wishes,
Anna x