It's just as important to keep yourself well as it is for the person you care for.
Winter can be a tough time for your physical and mental health. You may feel less inclined to go out, particularly on the colder or wetter days and the shorter days don't always help either. There are however some things that you can do to ensure that you stay as well as you can be.
Book your jabs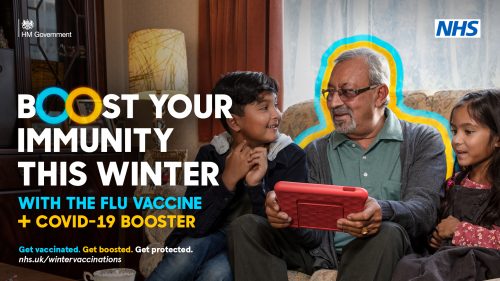 As an unpaid carer, you are entitled to a free Flu vaccine and your Covid-19 booster vaccine.
Make sure you are registered as a carer with your GP surgery to ensure that you are on the list to get access to Covid boosters. You can also book your Covid vaccine here or by calling 119.
Make the most of the daylight
We've touched on this above, try to make the most of the daylight hours if you can, even if it's just for a short walk or a sit down in the garden. Being out in the daylight can help with things like your hormones and sleep.
The NHS also encourages people to take a vitamin D supplement during the autumn and winter months stating:
During the autumn and winter, you need to get vitamin D from your diet because the sun is not strong enough for the body to make vitamin D.

But since it's difficult for people to get enough vitamin D from food alone, everyone (including pregnant and breastfeeding women) should consider taking a daily supplement containing 10 micrograms of vitamin D during the autumn and winter.
You can buy vitamin D from most supermarkets, pharmacies and health food shops. Find out more about vitamin D and whether it's suitable for you on the NHS website.
Some people can find the winter months can trigger low mood, particularly if they have Seasonally Affective Disorder (SAD). A lightbox may help you relieve symptoms, you can read more about SAD and how to prevent it on the NHS website.
Keep warm
Keep your house warm and at a comfortable temperature to help keep you well. Close your curtains at dusk to help reduce heat loss. Age UK has more tips on how to keep warm and well in the winter.
If you are worried about your energy costs, you can call us on 0800 368 8349.
Exercise for wellbeing
Doing some exercise each day can have massive benefits to your life both physically and mentally. Look out for fitness classes that you may be able to join (some offer discounts with a Dorset Carers Card), walks or activities which you can join or home workouts that you can do on things such as YouTube.
If you're not sure where to start, then LiveWell Dorset can give you tips to help you begin or resume your fitness journey. They can also give you advice on how to maintain a healthy diet.
Take care of your Mental Health
It is so important to look after your mental health. If you are struggling and would like to talk to someone about how you are feeling, there are several options available to you. You are not alone.
Here at Carer Support Dorset, we offer a telephone befriending service which connects you for a regular chat with one of our volunteers. We can also refer you for counselling via The Leonardo Trust, just get in touch with us on 0800 368 8349 or email admin@carersupportdorset.co.uk to find out more.
Don't forget, there's also Samaritans who offer a 24/7 confidential service 365 days a year. You can call them on 116 123 and Connection, a 24/7 service specifically for Dorset – call them on 0800 652 0190 or via NHS 111.
For more information on any of the services mentioned above, please contact one of our friendly Carer Advisers on 0800 368 8349.