Are you looking after someone? Why not get involved in carer research to help the understanding of the issues carers face?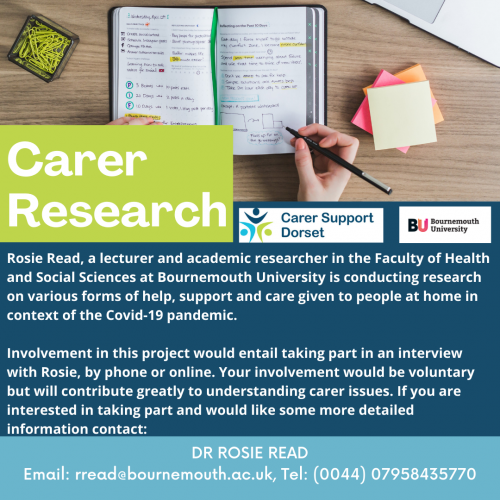 Dr Rosie Read, a lecturer and academic researcher in the Faculty of Health and Social Sciences at Bournemouth University, is researching various forms of help, support and care given to people at home in context of the Covid-19 pandemic. At a time when much media focus has been on hospitals and care homes, this study seeks to shed light on the importance of home care and community-based support networks for combatting Covid-19.
Dr Rosie Reed is particularly interested in exploring how different people experience the giving and receiving of home-based help, support and care. The research will focus on: carers, volunteers, home (domiciliary) care workers, and people who are receiving (or who have recently received) support and care at home from volunteers, carers or care workers. Carers here means people who provide care for their family members or non-relatives, on an unpaid or paid basis.
Involvement in this project would entail taking part in an interview with Rosie, by phone or online. Your time would be unpaid.
Your participation would entail;
Taking part in an interview with me to speak about your experience of providing care to people at home during the Covid-19 pandemic. This would take place by phone or online using zoom, MS teams or skype, and would be for around 1 hour. I'm happy to share the questions to be explored with you in advance of the interview.
After the interview, you would additionally be invited to create and share with the researcher up to 3 images that express and depict your experience of being a carer during the pandemic. Some further guidance on this would be provided by the researcher.
The research will protect the anonymity of all people and organisations that participate, by changing their names and identifying details in all research reports, publications, images and other outputs.
If you are interested in taking part and would like some more detailed information about what participation involves, please contact:
Dr Rosie Read
Email: rread@bournemouth.ac.uk
Tel: (0044) 07958435770