Public Health England have shared some information on helping to stop the spread of coronavirus and other viruses.
Good handwashing and hygiene practices can help stop the spread of germs like coronavirus. This is particularly important for carers and the people they care for.
How to avoid catching or spreading germs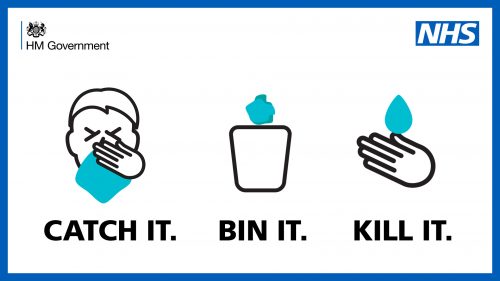 There are things you can do to help stop viruses like coronavirus spreading.
Do
cover your mouth and nose with a tissue or your sleeve (not your hands) when you cough or sneeze
put used tissues in the bin immediately
wash your hands with soap and water often – use hand sanitiser gel if soap and water are not available
try to avoid close contact with people who are unwell
Don't
do not touch your eyes, nose or mouth if your hands are not clean
Symptoms of Coronavirus
The symptoms of Coronavirus are:
a cough
a high temperature
shortness of breath
But these symptoms do not necessarily mean you have the illness. The symptoms are similar to other illnesses that are much more common, such as cold and flu.
Carers UK have put together more information on how to arrange a contingency plan and what to do if you or the person you care for has a coronavirus diagnosis.
NHS 111 has an online coronavirus service that can tell you if you need medical help and advise you what to do.
DO NOT go to a GP surgery, pharmacy or hospital. Call 111 if you need to speak to someone or 999 in case of emergency.
Everyone is being reminded to follow the public health advice on the NHS website to avoid catching or spreading coronavirus.
For more information on coronavirus please visit the NHS website.
Coronavirus information and support for Dorset
Dorset Council are constantly updating information on their website.
On social media, updates are coming from:
Twitter: @healthyDorset (Public Health Dorset) and @DorsetCouncilUK
Facebook: /DorsetCouncilUK
*Due to the ongoing Coronavirus situation, many carer support groups have been suspended. Please contact Carer Support Dorset to check the current situation regarding your own group – some are offering phone call support instead.* 
Help and Kindness have listed various organisations that are offering support services during these challenging times. From community kitchens to support lines you can call if you are feeling isolated.
Waste: Guidance for people with confirmed or possible coronavirus (COVID-19) infection
Personal waste (such as used tissues) and disposable cleaning cloths can be stored securely within disposable rubbish bags. These bags should be placed into a second bag, tied securely and kept separate from other waste in the room in which you are self-isolating. Keep aside for at least 72 hours before putting into your usual black wheelie bin. More info can be found on the Dorset Council website.
Do you need information on Covid-19 in another language?
If you need information about COVID-19 in another language, Doctors of the World provide advice in 20 languages, these are produced in partnership with the British Red Cross, Migrant Help and Clear Voiced.
You can also watch British Sign Language versions of government advice on the SignHealth website.