Carers Week is a national awareness week that takes place every year to raise awareness of caring, highlight the challenges unpaid carers face and recognise the contribution carers make to their families, friends and communities. It took place this year on the 6-12 June.
Carer Support Dorset held a number of events during the week across the county, to thank unpaid carers for all that they do and to reach new people who might be looking after someone but unaware that there is support out there for them.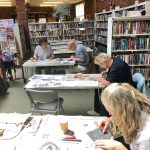 Marco van-Tintelen, Carer Support Dorset's Head of Operations said: "This year's Carers Week theme was making caring visible, valued and supported. This is such an important goal in all our communities. Unpaid carers enable their friends and loved ones to live as well they possibly can, as independently as is possible. In the UK they save the economy an estimated £132 billion a year. Yet unpaid carers often feel unseen and unvalued – in research carried out nationally for Carers Week, 75% of carers said they think the role they do is not valued.
"During the week we held special events for carers to attend. Our staff were also out in the community, having conversations with people about caring. It was fantastic to get the message out there about what caring can involve, as well as let people who are caring know about the support that is available to them."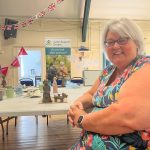 Among the events that took place for carers were a creative clay workshop in Winterborne Whitechurch, lino printmaking in Gillingham and a singing workshop in Ferndown. Carers could also request a free bunting pack which they could make at leisure. These events and activities were all funded thanks to Lottery money.
Events, drop-in sessions and training activities are run regularly across Dorset. If you'd like to find out more, please take a look at our what's on area. If you are caring for someone and would like to find out about support available, please call us on 0800 368 8349.