Carers Week is an annual national event and is about recognising and valuing unpaid carers.
A carer can be someone of any age, who may be in paid work or not, who supports a friend or family member due to their illness, disability, frailty, mental health or substance misuse.
Some of us may not identify ourselves as a 'Carer' because it's something we just do.
The following organisations – Bournemouth Christchurch and Poole Council, Dorset Council, Dorset Healthcare, Dorset CCG, Dorset County Hospital NHS Foundation Trust, The Royal Bournemouth and Poole NHS Trusts, Carer Support Dorset and Rethink are working in partnership with each other and many others organisations across Dorset to reach out, support and help celebrate carers and what they do, especially at this difficult time.
'Making Carers Visible' is the theme this year and we are encouraging carers, and everyone in the community, to celebrate and recognise the contribution of this often-hidden group of people known as carers.
Even if you are not a carer, think about your friends and family, it is probable that you will know someone who is looking after another person.
Across the UK today an estimated 6.5 million people or 1 in every 8 are carers and this includes many thousands who live in Dorset!
Get creative!
Organisations across Dorset would like you to customise the Carers Week logo with your own colours or style or create your own!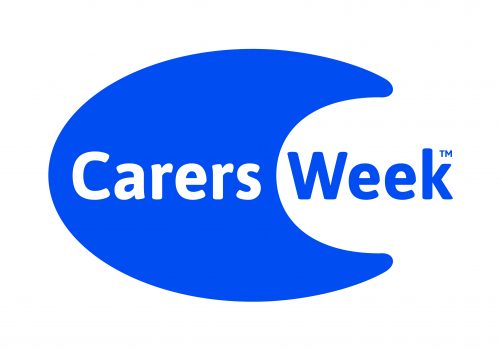 Whatever you decide to do please put it in the window and show carers that we value all they do and that they are not alone.
Know any children that like to get creative? Or perhaps they are a wiz at words? These fun activities are great for getting them involved in this year's Carers Week. They are also lots of fun for us adults too!
Print and colour your own Carers Week poster, and pop it in your window
Print out your own copy of our Carers Week poster below and colour it in to your heart's content. We'd love to see you pop it in your window to show passers by too! We'd love to see your final versions, please share them with us on Facebook or Twitter.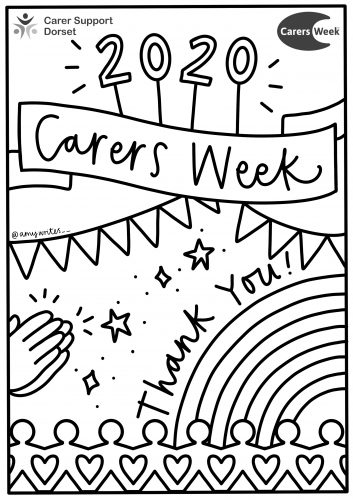 You can also download it here.
We also have one that's already been coloured if you would just like to print it and display it.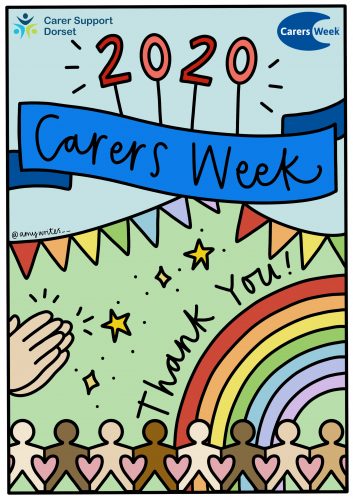 Download it here: DORSET CARERS POSTER
A big thank you to Amy Writes for producing these for us. You can find out more about her work at www.amy-writes.co.uk or on Instagram @amywrites__
Find the hidden words in our word search
Can you find the words for all things carer-related in our word search? Download it below…
Join us for some Virtual Cuppas
Pop along to some of our Virtual Cuppa sessions during Carers Week.
Monday 8 June, 2pm
Tuesday 9 June, 10am
Wednesday 10 June, 3pm
Thursday 11 June, 11am
Friday 12 June, 2pm
To join any of these free sessions please email admin@carersupportdorset.co.uk for joining instructions.
Places are limited so please contact us as soon as possible if you would like to join a particular session.
To find out more and get information, advice and guidance from our team please contact us on 0800 368 8349.