To celebrate Carer's Rights Day, Dorset Council are running their own Carers Dorset Festival. On 25 November there will be lots of different events for carers to attend for free, both online and in person.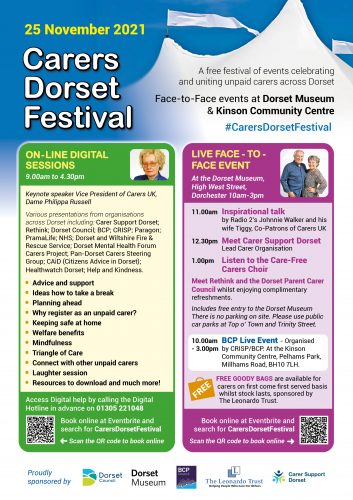 Theses sessions are being attended by representatives of different Carer organisations across Dorset, including Carer Support Dorset. In person sessions will be taking place in Wimborne and Dorchester and include free refreshments and goody bags. The poster shows just a snippet of the many events taking place and we will be updating you soon on the full timetable.
If you have internet access, you can also find more details and sign up to the events as follows:
Face-to-face at Dorset Museum –
https://www.eventbrite.co.uk/o/dorset-museum-35551600283
You can also download the Dorset Museum Carers Dorset Festival handover to see what's happening and where.
Carers Dorset Festival Handout 
Virtual events –
https://www.eventbrite.co.uk/o/carers-dorset-festival-35551549933
We hope to see you there!
You can also get digital support to attend the Carers Dorset Festival
If you would like to join some of the Carers Dorset Festival online sessions but aren't confident in using IT, you can call the Dorset Digital Hotline with an IT question on 01305 221048 (select option 2) weekdays (excluding Bank Holidays) from 10am-12noon.
The hotline hours will be extended for 25 November from 10am–2pm to help carers to get onto the Carers Festival digital sessions.
Live Screening of the Festival
Some of the digital Carers Dorset Festival sessions will be screened live at Tricuro centres at the following locations:
Stour Connect, Sturminster Newton, DT10 1JF. Phone 01258 472957 to book your place.
Ridgeway Plus, 54 Links Road, Weymouth, DT4 0OF. Tel: 01305 760917
There is also now a live screening at Weymouth Connect:
Weymouth Connect, 5 Grosvenor Road, Weymouth, DT4 7QL will be screening the event at the Day Centre where a Digital Champion has signed up to the following Sessions that can be viewed on the big screen throughout the day:
0900 – 1000: Welcome and Introduction
1000 – 1030: Carer Support Dorset
1035 – 1105: Rethink – Dorset Carers Service
1110 – 1145: Adult Social Care Assessments Explained
1200 – 1230: Shared Virtual Lunch
1230 – 1325: Keynote Speaker, Dame Philippa Russell
1330 – 1400: Paragon Dragonfly
1410 – 1450 Welfare Benefits
1500 – 1530: Fire and Rescue Service – risks posed by emollients
1535 – 1600: Stepping Into Nature
1605 – 1630: Dorset Carers Hub
This would be ideal for those who would like to watch the Event but who are unable to make the face to face one or able to access it digitally themselves at home. Carers who would like to come along to Weymouth Connect should ring the day centre on 01305 760583 to book a place. There will be refreshments available and Free Goody Bags for Carers courtesy of the Leonardo Trust on a first come first served basis.
Please contact the centres directly for timings.