Carer Support Dorset volunteer and ex-carer, Howard tells us more about the 'Here to Talk' befriending scheme and why he volunteers…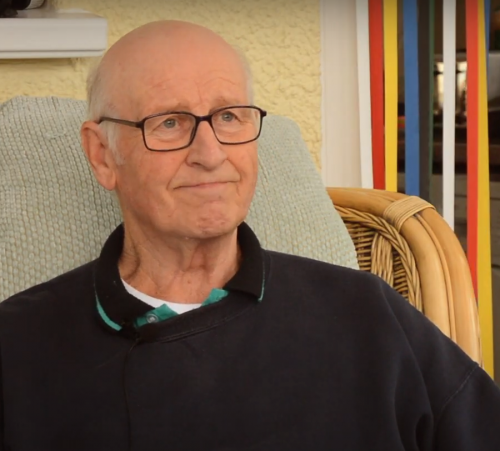 Do you find volunteering rewarding and if so, why?
An affirmative yes, I find it most rewarding. For 6 plus years I was the sole carer of Val, my wife of 51 years who sadly died in April this year having been diagnosed with a rare form of dementia. I wanted to volunteer to impart my experience that I gained through a very difficult journey – not only physical but an emotional rollercoaster ride. Val had suffered health issues over the years and had been in hospital and two care homes. On reflection, I needed someone outside of family and friends to listen to me and offload. Now carers have the impact of not only caring but also the difficulties associated with Covid-19 with possible isolation and lack of human contact from relatives and friends.
As a volunteer for Here to Talk, I am able in their hour of need to listen and understand because I too have been on that journey. This gives me immense satisfaction.
What kind of topics do you talk about with the carers?
It's very varied and could be about the past, their careers, gardening, sport, snooker, going to concerts, music in relation to dementia, how they are feeling, their families – it's whatever the carer wants to talk about.
What are your 3 top tips for living through a lockdown?
Phone contact is important – being able to talk to somebody
Exercise, keeping active physically and mentally and looking after your wellbeing
Me time – try to do things that you enjoy
Does the carer need to have the internet to become involved with this service?
Not at all, it's a simple phone call.
What do you like to do in your spare time?
I'm a music buff! I've got an Alexa, I'm keen to do gardening and I like watching sport on TV. I like singing and walking too.
How long do you spend talking to a carer?
It varies depending on their needs. 10 minutes to half an hour, is average, and could be a weekly call, monthly or every other week phone call. Whatever is convenient to the carer, I am flexible.
What would you say to a carer who was worried about ringing Carer Support Dorset in order to access this service?
Don't be! That's the bottom line. It's a simple process with great value at the end. Plus – it's all confidential.